Private Power Boat Birding/Photography Tour - 2 ½ hours
Private Kayak Birding/Photography Tour - 2 ½ hours

For the more Serious Photographer/Birder
The entire Everglades area, including Everglades National Park, is a wonderful place for birding. With over 300 species of birds throughout the year, it is the only Park that was established for its biological and ecological considerations rather than it geological features.
However, most of the 1.5 million acres in the Park are flooded and essentially out of reach for the average birder and photographers. Everglades Area Tours can you take you and your equipment to areas seldom reach by others.
---
Online Booking of our Private Tours is Not Availalbe -
Please Call 239-695-3633 to Book this Tour.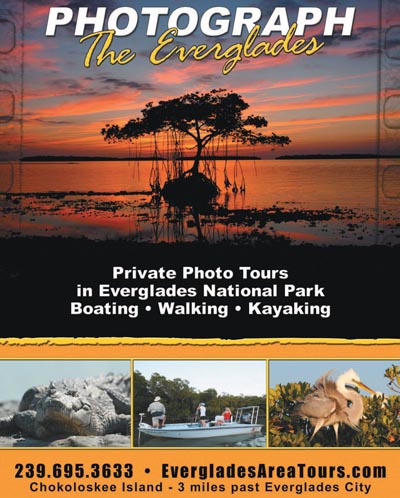 Private Power Boat Birding/Photography Tour - 2 ½ hours

The whole area and your photography/birding opportunities change with the seasons, therefore so do our tours. Sometimes we need to run deep into the Park's interior to reach a shoot location or species. Other times, the wildlife is close by.

Lighting considerations can influence a shoot and many photographers wish to shoot early in the mornings or late in the evenings. However, tidal considerations are even more important, especially for shooting wading birds as they need shallow water to feed. Many photographers enjoy shooting while standing in the water or on a remote sand beach.

All private photography tours are customized based on your desires, the season, the wildlife and the weather. You and your guide discuss your needs, wants and the possible options prior to your tour.

The use of a power boat typically provides the most flexibility for photographers. A flat-decked boat is your shooting platform as has room for one tripod and two guests (three if smaller framed). An electric trolling motor is used to maneuver the boat into position for your shots and to silently approach the wildlife.

The power boat is also the only practical way to shoot some of the spectacular island and beach scapes at sunrise and sunset.

On most tours, you will be with a wildlife photographer who is also Florida Master Naturalist and licensed Coast Guard captain. This tour is $387.00 and typically lasts about 2 and ½ hours. Reservations are required and the tour can be booked securely online (and save you $10!). Please do not hesitate to call, however. Prices exclude 6% Florida sales tax and gratuity for your guide.

Longer tours, specific destinations and boats that can accommodate up six adults and three tripods are available. Please give us a call with your needs!

Private Kayak Birding/Photography Tour - 2 ½ hours

Online Booking of our Private Tours is Not Availalbe -
Please Call 239-695-3633 to Book this Tour.

This second private tour uses very stable, tandem kayaks or canoes as the photo platform. The photographer would is in the front and the guide would be in the back taking care of most of the paddling. We will position the craft while you shoot.

The paddle craft allow us to penetrate the mangrove forests, mangrove tunnels and tidal creeks ... areas that you simply cannot get to with a traditional boat. It is the only way to reach some of the areas roosts and rockeries and the best way to access others. In addition to avian life, you may have opportunities to shoot alligators, river otters, orchids, bromeliads and other flora, as well as, the numerous "critters" that call the mangroves home.

For the best experience, we prefer to limit the tour to two guests and one photographer for a total of three. The photographer and guide will be in one craft the two other guests will share another tandem craft. Too many boats can interfere with the shoot and scare off the wildlife. This tour is $297 for one to three persons. Your guide is naturalist on this tour, as well.

Online Booking of our Private Tours is Not Availalbe -
Please Call 239-695-3633 to Book this Tour.

A few shots from recent birding/photography trips ...

Wild Life Photographer, Capt. Bruce Hitchcock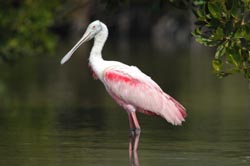 Roseatte Spoonbill -
Photo by Bruce Hitchcock
See More Photos by Bruce Hitchcock - Click Here
Italian photojournalist Vittorio Sciosia

Photo by Vittorio Sciosia
See More Photos by Vittorio Sciosia - Click Here
Photographer David Ornstein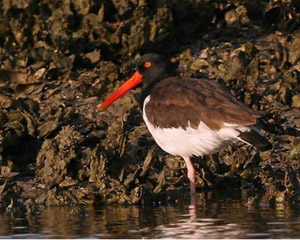 Photo by David Ornstein
See More Photos by David Ornstein - Click Here
Photographer Constance Mier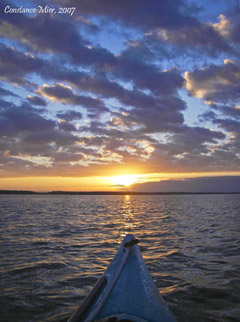 Photo by Constance Mier
See More Photos by Constance Mier - Click Here