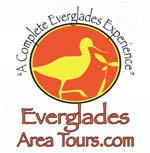 Dedicated to the experiential education of students, families and travelers from Florida, the Americas and the World. Only through education, do we have the opportunity to preserve the Everglades, its culture and its heritage.
Everglades Area Tours is an educational tour operator working in Florida's Everglades National Park and surrounding protected areas. All guides are formally trained Florida Master Naturalists, Environmental Educators and Full-Time Outdoor Leaders.
The Everglades area consists of Everglades National Park, Big Cypress National Preserve, Fakahatchee Strand State Park, Picayune Strand State Forest, Rookery Bay National Estuarine Research Reserve, Collier Seminole State Park and the 10,000 Islands National Wildlife Refuge. Everglades National Park is one of the most spectacular parks in the US National Park System with over 1.5 million flooded, pristine acres. Commissioned in 1947, it is the only park established for its biological considerations instead of its geological features. Home to over 300 species of birds and dozens of endangered species, its biological diversity makes the area unique and very special … a true biological wonder.
Everglades Area Tours provides eco-educational experiences (hiking, paddling and powerboating) throughout the region. These experiences cover the complete educational gamut for students of all ages, from half-day tours to seven-day experiential courses in the Everglades wilderness. Our Lead Guides ...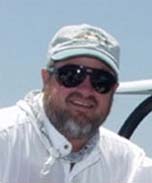 Capt. Charles Wright
Capt. Charles Wright is a professional fishing guide, outdoor writer, and naturalist interpretive guide. He grew up in South Florida and the Keys, and has personally enjoyed Everglades National Park since 1972. Schooled as an Environmental Engineer, an FAA Certified Flight Instructor, Florida Master Naturalist and US Coast Guard (USGS) Captain, he left his environmental consulting business and moved to Everglades City after hurricane Andrew. He has been guiding professionally in the Park since 1997, and is the President of Chokoloskee Enterprises, Inc. (d/b/a Everglades Area Tours), on the Board of Directors of the Florida Outdoor Writers Association, the Society for Ethical Tourism and VP of the Florida Professional Paddle Sports Association. He is also active with the Audubon Society and the Collier County Convention and Visitors Bureau. Originally a fishing guide using poling skiffs and center-console boats, his charters always had an educational component. It was not long before he began to use the stealth and accessibility of the fishing kayak to get his clients to parts of the fishery that no others could access. The use of a dedicated transport boat for the kayaks, the desire to share the Everglades and educating his guests, beyond the clichéd "airboats and alligators" steered him to conduct educational-based tours in the kayaks and eventually to create Everglades Area Tours. Charles is still is an active fishing guide, but spends an equal amount of time in a leadership and educational role with Everglade Area Tours.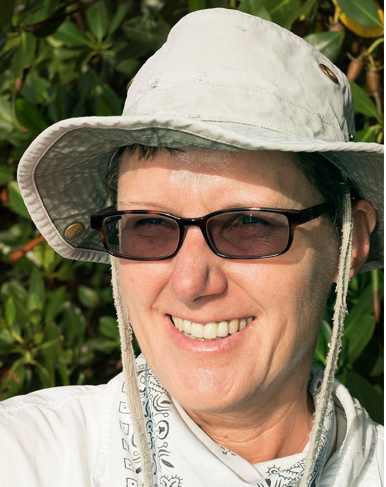 Constance Mier Constance is an award winning outdoor photographer who brings 25 years of teaching experience and over 17 years of nature photography. Her approach is to keep things simple and to cater to individual novices or intermediate-level nature photographer's creative and technical goals.
With her, you should develop new field techniques, a better understanding of the workings of your camera and a broader understanding of lighting and composition … skills that you will use forever in your photography.
Some of the topics to address include:
Correct exposure for white and dark birds
Applying filters and camera settings for long exposure dreamy waterscapes
Manual camera settings for correct exposure and depth of field
Creative lighting and composition
Multiple exposures for waterscape or landscape shots A
pproaching birds and other wildlife
Constance can be with you on the boat on your Private Photo and Birding Safari in Everglades National Park or the 10,000 Islands Wildlife Refuge. She can also lead you and your camera on a Guided Walking/Photo Tour in Fakahatchee Strand or a Guided Kayak Photo Tour in the Everglades Big Cypress National Preserve.

Constance's art is inspired by her canoe explorations of the wilderness areas of South Florida. She will often spend several days at a time in the Everglades exploring remote places seldom photographed. It is with a camera that she attempts to recreate the peaceful solitude that you experience in these places. With an artistic vision framed by the camera, her goal is to provide the viewer a perspective he or she has never seen before…not to simply illustrate a picture of a bird or a mangrove tree. To that end, a successful image is one that best represents the wilderness experience and invites the viewer to observe more closely with a deeper appreciation for nature's art. Growing up in rural Upper Michigan, nature and wildlife were significant in her life as she often explored the wooded areas surrounding her home. In 1997, her academic career led her to Miami where she began exploring the wilderness areas of south Florida by way of canoe. As the canoe was essential, so was her camera. Her cameras began as a way to record her wilderness trips, but soon grew into a passion that allowed her artistic side to develop. Since 2018 she has lived on Chokoloskee Island, in the heart of Everglades National Park's Ten Thousand Islands. Since then, she has expanded her photography to other natural places throughout the United States.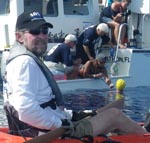 Don "Woodkayaker" McCumber is a Florida Master Naturalist who has been kayaking in SW Florida for over 25 years. Don brings all of his knowledge and experience to Everglades Area Tours guiding multiple-night kayak camping trips and kayaking day experiences. A member of several local kayak clubs, he has led many trips, organized "Kayak Camping 101" to help introduce new kayak campers to wilderness camping and helped organize the "No Motor Angler's Club", a kayak fishing club that now boasts of having more than 300 members in and around SW Florida.
Don is the Captain of Diana Nyad's kayak team assisting in her goal of swimming from Cuba to Florida. He is a passionate nature lover, with a broad-based knowledge of the local ecosystems. Those who have been on trips with Don, can attest to the fact that he has many stories to tell about his adventures and encounters with the wildlife of the Everglades, and beyond. Around the campfire, Don loves to share stories about the experiences that he and his kayak camping guests share. Each of his trips are photo- documented and shared with his guests. He is a good camp chef, preparing hearty meals, from vegan dishes, to crab cakes, cajun boils, and more - just sit back, let Don do the cooking, and enjoy. You won't go hungry on one of his camping trips!