Most of us have limited vacation time, so our time is very precious. As such, Everglades Area Tours provides a water shuttle and livery services for campers, canoeists, kayakers and fishermen that allows you get the most of the limited time that you have available. Enjoy the remote areas of the Park without committing the time to a multi-day paddle. Kayak fish the Park for days instead of paddling for days just to reach a site. Catch up to your friends who left days earlier, be resupplied at your campsite or make a "one-way" paddle instead of a loop.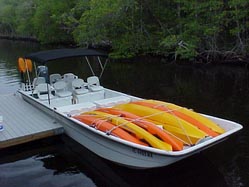 Throughout the Park and along the Wilderness Waterway are numerous campsites. Some are beach sites, some are ground sites and some are camping "chickees". The areas that surround each site are unique and offer great discovery opportunities if you can use the campsite as "base". Unfortunately, the spacing of these sites was originally designed with travel in mind, so by the time the day's paddle is over, there is little time for discovery of the local area.
One of the most prolific areas for observing wading birds is just 3/8 mile from one of the popular backcountry ground campsites, yet most kayakers simply use the site as a stopover point. Another is next to a rich, pristine fishery; perfect for the kayak or canoe, but it is a 2-3 day paddle away.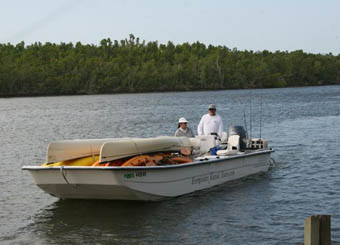 Using a shuttle to get your camping gear, supplies, kayaks and/or canoes to a remote site allows you to spend your vacation time enjoying the area rather than traveling to and from. Turn what would be a two day paddle out and two day paddle back into a four-day relaxed adventure.
Each site has specific requirements and limitations (the number of people, campfires, access, length of stay, etc). We can help you select sites based on our experience and your desires. However, backcountry permits are required prior to use of a campsite. All campsites are subject to availability, but the use of our livery services opens up many more campsites than would normally be available (especially to those with less than a week of time available). For camping permits please visit https://www.nps.gov/ever/planyourvisit/wilderness-trip-planner.htm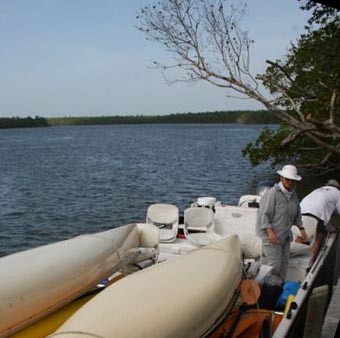 Everglades Area Tours has several boats available to assist with your trip. However, each can carry a maximum of six guests, but can accommodate most anything that you will need in a single trip.
Rental Kayaks and camping gear
is available
(see the Outfitting/Rental page).
One-Way Shuttle Prices. The pricing, below is "per trip" and based on the livery location. Many guests choose to spend a few days at one location and then relocate to another during their excursion. Please contact us with your desires and needs.
| | |
| --- | --- |
| | Up to 6 peoples |
| Jewell Key, Rabbit Key, Crooked Creek | $ 275 |
| Picnic Key, Tiger Key, Pavilion Key, , Camp Lulu | $ 350 |
| Mormon Key, New Turkey Key, Watson's Place | $ 395 |
| Hog Key, Lostman's River Mouth, Sweetwater Chickee | $ 425 |
| Highland Beach, Darwin's Place | $ 450 |