A Unique 3 Hour Naturalist Led Eco-Adventure
Leisurely Paced and Tailored to Ages and Experience Levels
Daily Tours - 9:00 & 1:30
$109.95 Per Person; Kids Under 12 - $79.95
Reservations are required. Private and Group Tours Available Book Online Now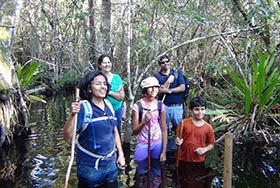 The Everglades is made up of a variety of habitats: sawgrass marshes; marl prairies; pinelands; hardwood hammocks; cypress swamps, sloughs and domes; mangrove forests; and marine estuaries. It is one of the very unique and special places on our planet.
Our most popular walking tour take us through the cypress swamps of the Fakahatchee Strand Preserve State Park. The Fakahatchee Strand is known as "the Amazon of North America". For thousands of years moving, clean fresh water has carved away at this spectacular environment. The Park is a 75,000 acre wilderness area and is approximately twenty miles long by five miles wide. A protective canopy of bald cypress trees covers a slow moving shallow "river" or "slough" running north to south. The canopy and water below create a unique "humidity controlled" environment that neither gets too cold in the winter or too warm in the summer. Flora and fauna flourish and the Strand is home to rare and endangered tropical plant species. It contains the richest diversity of native epiphytic orchid and bromeliad species in North America (44 and 14 respectively) as well as the largest groves of native royal palms.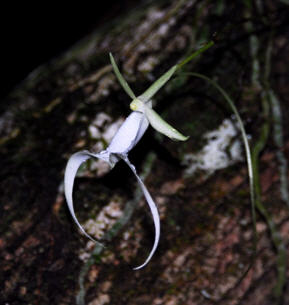 Ghost Orchid
Take a three hour excursion with one of our knowledgeable (and passionate) naturalists to explore the many wonders of these environments. Discuss the natural history of the Everglades, as well as the last 120 years of human impact to the ecosystem, and the current Comprehensive Everglades Restoration Plan (CERP) - the largest restoration project our planet has known.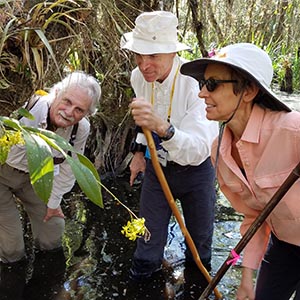 Each and every tour will present unique opportunities. You may come across an endangered orchid in bloom (such as the ghost orchid or the dingy-flowered star), or we may see fresh tracks or scat from an elusive Florida panther or Florida black bear. Encounters with white-tailed deer, red-shouldered hawks, barred owls, pileated woodpeckers, egrets, herons, alligators and water reptiles are always a possibility, and definitely a bonus.
Groups will have an option of a "dry walk" or a wet "swamp walk". For those who prefer to stay dry, we can take advantage of the vast network of tram roads (dirt/gravel) that were built during the days of cypress logging (1944-1956). For those who do not mind getting their feet wet, one of the best ways to experience the Everglades is walking through its' clear, rich waters knee deep.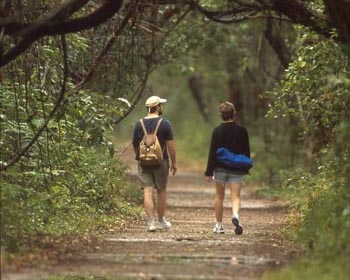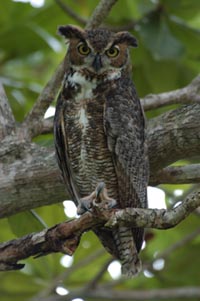 It is not possible to experience all that the Everglades has to offer in a single outing. However, this adventure, combined with the Mangrove Tunnel Tour and a Boat Assisted Kayak Eco Tour provides a Complete Everglades Experience as is practicalů three major pieces of the Everglades "pie".