Fly over Everglades Area or the Keys in an Alaskan Bush Plane!!
Flights Depart from Everglades City Airpark from November to May
Several Tours Available; Up to four guests
Everglades area, Key West, Fort Jefferson, and the Big Cypress
November to May The Everglades Area is vast. With over one million flooded acres, Everglades National Park, is surrounded by the 10,000 Island Preserve, Big Cypress National Preserve, Faxahatchee Strand Preserve, Collier-Seminole State Park and the Florida Keys. A flight over the area is perhaps the best way to gain an appreciation for the make up of this wonderful area.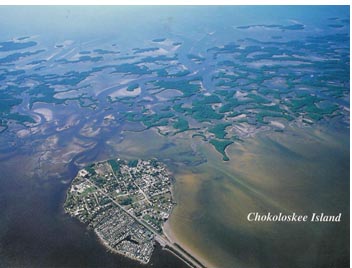 Guests on the "Flightseeing" tours commonly see birds, alligators, manatees, dolphins, deer and sharks as we fly over the area's lakes, bays, rivers and sawgrass prairies and even Calusa Indian Shell Mounds.

From the Everglades, take a flight to Key West for lunch or Fort Jefferson in the Dry Tortugas.
Number of Guests:
1
2
3-4**
Everglades City Tour
(~ 20 mins)
$138*
$69
$46
10,000 Island Tour
(~ 30 mins)
$174
$87
$58
Marco Island Tour
(~ 45 mins)
$258
$129
$86
Everglades National Park Tour
(~ 60 mins)
$336
$168
$112
Grand Tour
(~90 mins)
$504
$252
$168
Lands End
(30 min addition)
$168
$84
$56
Key West Tour
(1-2 days)
$990
$495
$330
Key West to Ft. Jefferson
(1 day
includes refreshments & snorkel gear)
Float Plane or Ferry Available
Big Cypress Tour

$336
$168
$112
Aerial Photography Trips $336/hr * The pricing above is per adult. Children under 12 are free with adult ** The ability to carry 4 passengers depend in individual weights.