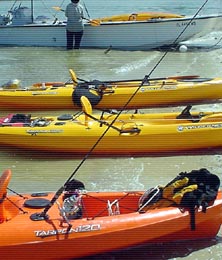 Mother Ship Trips - The Yak Attack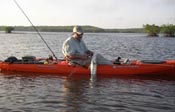 The Chokoloskee Island area is a wonderful place to kayak fish. Excellent snook, redfish and tarpon fishing is available very near our launch sites. While the fishing is very good near Chokoloskee, there are some absolute wonderful places to kayak fish deeper in the backcountry of the Everglades National Park and the 10,000 Islands. The Park and the surrounding areas are extremely vast, comprising over one million flooded acres. Most areas are simply too far away to paddle for the typical kayak fisherman. However, these great places are not out of your reach.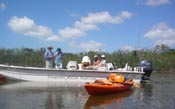 Using our mother ship, we will transport you, the kayaks and your gear to and from the far reaches of the Park. The yaks are loaded on to the mother ship along with your tackle gear and lunch. We transport everything briskly and very comfortably to where we plan to fish. The kayaks are then unloaded so we can fish the area. There are no long paddles. Typically, we break for lunch either on the boat or on a beach. However, this is totally up to you as each angler enjoys things at their own pace. We literally are fishing places that will take the normal person DAYS of paddling just to get to! These trips are particularly suited for corporate entertainment, group outings, and fly shops, and even families. Up to six anglers can be accommodated on a single trip without a hint of the typical crowding felt on even the biggest of boats. No one ever gets sea sick.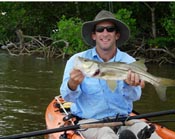 It is not practical to fish more than two anglers in a flats skiff, so several boats are usually needed. If you are a fly fisherman, only angler can fish one at a time. Many times, on group outings and shop trips, something is lost if you are not fishing together and have to use multiple boats. These Yak Attack trips give back that feeling of "fishing camaraderie". Up to six can fish together without packing on to a larger boat, but in a few strokes of your paddle you can have your "space" again. Combine this trip with a skiff and an offshore trips, and you have a complete Everglades fishing experience For the family, these are perhaps the best trips that we offer. Transported to a remote beach, we setup "base" on the beach with chairs, umbrellas and coolers. The beaches offer great shelling, wading, birding, sunning and paddling ... everything that you want on a beach, except the crowds and noise. Everyone also has an outfitted kayak. Those in the family who want to fish "hard core" may, those that want to fish a little can, those that just want to watch will ... but only as long as they want. Everyone experiences things at their own pace on the same trip on the same day. The fisherman can fish and beach-goers can beach ... or both ... a little or a lot.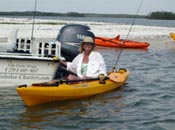 Many of the trips are pre-scheduled, typically on the weekends. These trips that are open and available to anyone. However, should another date be more attractive, we should be able to accommodate with a little notice ... just inquire. On the scheduled mother ship trips, you may be fishing with an angler who is traveling alone; an experienced kayak fisherman who wants to fish a different part of the Park but does not have the time for a big paddle; or an outdoor writer working on a piece … you just never know. We can assure you, however, that you will get to enjoy meeting new friends who share a common interest while experiencing some very special parts of the fishery. Space is limited to just six for these special trips so make your reservations early. The cost is $675 for the first three anglers, and $225 for each additional angler. This fee includes your outfitted fishing kayak. You are encouraged to bring your own fishing gear and tackle, but we do have rental equipment available. Also, according to Florida law, since you are fishing out of your own boat, you will need your own Florida fishing license for this trip. (~ $10 for an out-of-state; three-day license ... available online) These trips are blast, if you have not tried one, you should.